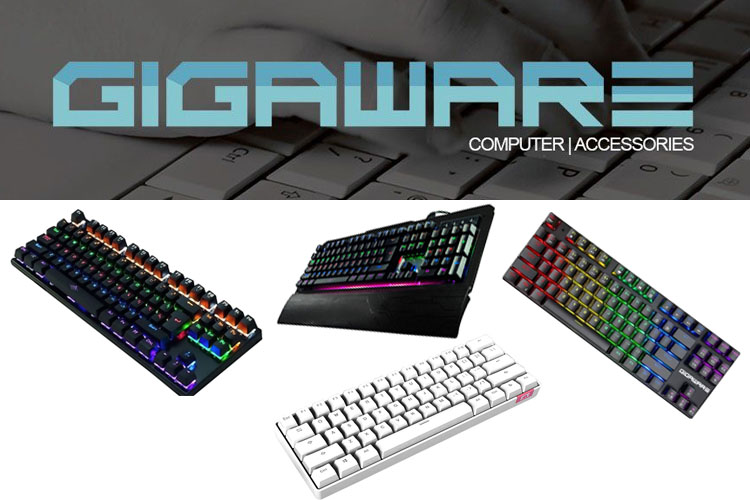 Anyone who has tried to search for the most affordable mechanical keyboard has surely heard of Gigaware. They have been in the mechanical keyboard scene for a very long time and have long been giving budget-priced alternatives to popular gaming keyboard brands.
Gigaware is an OEM computer accessories manufacturer best known for creating budget gaming keyboards. They were known for introducing low-priced RGB backlit mechanical keyboards and entry-level PBT keycaps. Despite not being popular in the keyboard enthusiast market, they are still considered a good option thanks to their low asking price.
The brand originally launched their keyboards in response to the rising popularity of gaming mechanical keyboards. However, the market has since changed and has now moved towards enthusiast-grade custom keyboards. Of course, this begs the question. Are Gigaware keyboards still relevant? If so, who are their keyboards for?
In this article, we will be answering all of these questions. We will dwell deeper into the brand's roots and product lineup. And ultimately, we will assess whether or not Gigaware's keyboards are worth purchasing.
More About the Brand

Technically speaking, Gigaware is an Original Equipment Manufacturer (OEM). The company primarily sells products for other companies to rebrand. Thus, many readers may potentially spot similar-looking products with different branding. 
In addition, Gigaware is not actively promoting their brand. While they do have some presence on Facebook and other social media outlets, their marketing isn't as aggressive as other gaming brands.
Lastly, Gigaware seems to focus solely on the budget-priced computer peripherals market.  They are not actively developing groundbreaking or innovative products that will blow the rest of the competition away. Instead, they focus on releasing basic computer peripherals that are good enough for budget-conscious individuals or small businesses such as internet cafes.  
Keyboard Lineup
With everything out of the way, we now discuss Gigaware's keyboards. Gigaware's keyboard product line is extensive compared to other entry-level keyboard brands. What this entails is that keyboard enthusiasts on a tight budget will still be able to find something that fits their aesthetic preferences and needs. 
Gigaware offers different keyboard sizes, including full-size, TKL, and 60%. In addition, Gigaware keyboards are known for integrating popular gaming keyboard features such as RGB and wireless connectivity.
The brand is also known to be one of the first to offer affordable PBT keycaps. They now also currently offer hot-swappable keyboards, making their products a good entry point for those who cannot fully commit to a full-blown custom keyboard.
Due to how many products Gigaware offers, we cannot go through all of the brand's offerings. Instead, we have selected popular products and keyboards that represent the best value that Gigaware has to offer.
Gigaware KG1 Mnemonix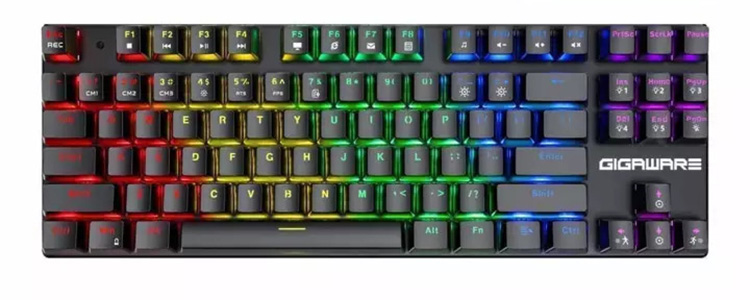 Highlights
TKL/Full-sized Mechanical keyboard

Hot-swappable

Available in Outemu Blue, Red, or Black Switches

RGB backlighting

Comes with a "Shroud" that acts as a top case for protection to the keyboard
The KG1 Mnemonix is Gigaware's latest offering. It employs many design elements found in older Gigaware keyboards while also introducing newer features that are becoming highly sought out in the keyboard community. 
Like most Gigaware keyboards, the KG1 is available in both a TKL and full-size form factor. It also features many familiar design elements such as RGB and an all-black color scheme.
The most notable addition here is the presence of hot-swappable switches. While it is still limited since it is only compatible with Outemu switches, it is still a step in the right direction. Outemu has a number of different offerings that will allow users to try out different keyboard switch types. In addition, Outemu is the manufacturer of the highly successful Gazzew switches, meaning it is still possible to use higher-end keyboard switches.
Aside from having hot-swappable switches, another quirk that the KG1 has is the added "shroud" that acts as a top case for the keyboard. Lastly, the KG1 is available in both a TKL and full-sized form factor. It can also be bought with either Outemu Blue, Red, or Black switches preinstalled. Overall, given that it has hot-swappable switches, the KG1 Mnemonix is currently the brand's most enticing option. 
Gigaware STK61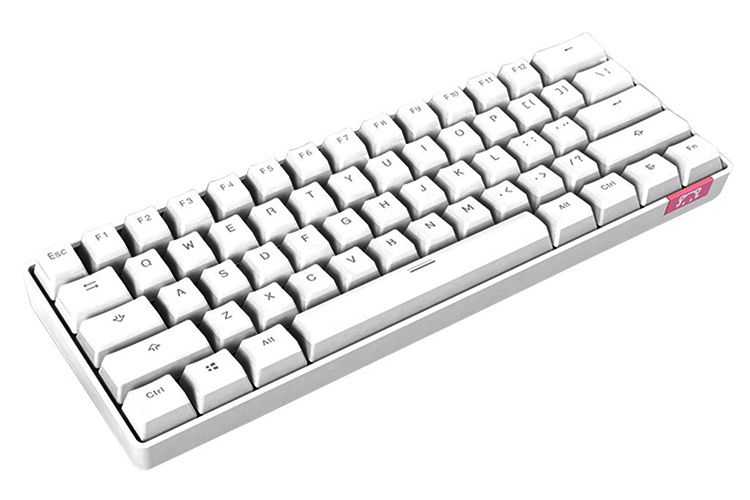 60% Form Factor

Bluetooth 5.0 Wireless/Wired Mode
Doubleshot Keycaps
N-Key Rollover (NKRO)

Available in Blue and Red Switches

RGB backlighting
The Gigaware STK61 is the brand's 60% keyboard offering. It is marketed towards users looking for a small form factor keyboard that takes up less desk space or can be used in a portable setting. It also seems to be a direct response to the growing popularity of budget 60% keyboards, as seen with keyboards such as the Royal Kludge RK61 and Epomaker GK61.
Aside from its small size, the STK61 also features Bluetooth 5.o wireless connectivity, and wired connectivity. Its various connection options allow users to choose how they want to use the SKT61.
Unfortunately, unlike most of Gigaware's competitors, the STK61 does not feature hot-swappable switches. Also, the switches that it does come with are unbranded/generic blue or red switches. Overall, unlike the GK1 Mnemomix, the STK61 is more of a basic keyboard for regular consumers rather an enthusiast keyboard that can be customized.
One thing to note is that Ajazz seems to be selling the same keyboard. But again, this should not come as a surprise since Gigaware is an OEM company.
Gigaware K26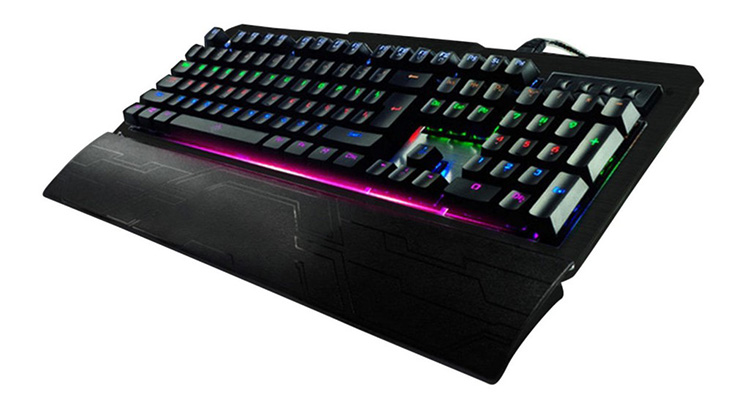 Highlights
Full-sized Pre-built Mechanical Keyboard

Non-hot-swappable

RGB Backlighting

Outemu Blue switch

Wired Connectivity

Non-detachable wrist rest. 
The Gigaware K26 is one of the brand's oldest and most well-known offerings. It sports a traditional full-size layout that is on the bulkier side, especially with its included plastic wrist rest. 
The K26 was originally released as a budget alternative to popular gaming keyboard brands such as Razer and Corsair. The big appeal of this keyboard was its RGB backlit keys which was a big deal back in the day. The backlighting isn't as vibrant as higher-end keyboards, and it does not feature per-key RGB lighting.
Lighting and overall software customization were also missing. However, the K26 was considerably more affordable than big-name gaming brands.
Also, the Gigaware K26 is only available with Outemu Blue switches. These clicky switches were quite popular at the time of its launch but have since fallen out of favor compared to other mechanical keyboard switches.
Overall, the Gigaware K26 is still a good option for budget-conscious gamers. However, its overall design aesthetic and key switch offerings are considered outdated in today's mechanical keyboard market.
Gigaware K28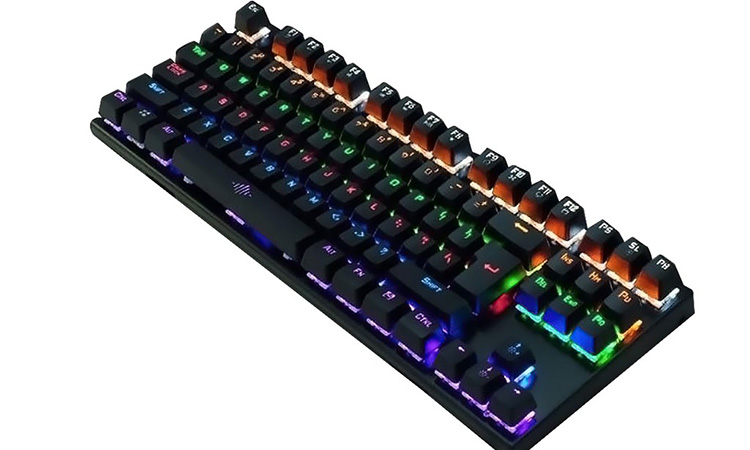 Highlights
TKL Mechanical Keyboard

Non-hot-swappable

RGB Backlighting

Outemu Blue switch

Wired Connectivity 

Available in white and black version
The Gigaware K28 is basically a more compact TKL version of the Gigaware K26. The only significant change here is that it does not include a Numpad. This keyboard was released to follow suit with the trend of releasing TKL keyboards that big-name gaming brands were introducing. 
The K28 pretty much follows most of the design elements and features of the K26. It has Outemu Blue switches, wired connectivity, and pretty much basic functionality. It also does not include software for in-depth customization. Again, the K28 is still a good keyboard for its price but not the most enticing option in Gigaware's keyboard offering.
Why Buy Gigaware Keyboards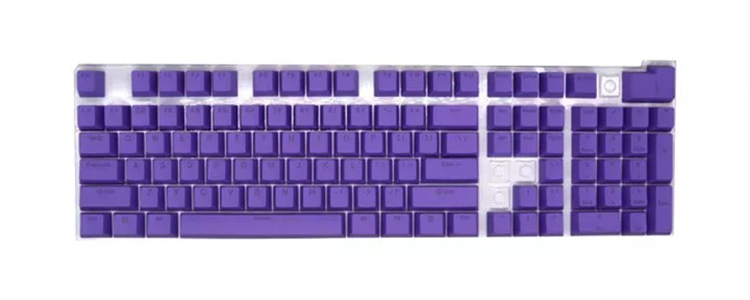 As we have discussed earlier, Gigaware is not the most premium brand. They are also not the most innovative brand. However, what makes Gigaware a brand worth considering is the fact that their keyboards are useable despite the low asking price.
Having features such as Bluetooth and Outemu hot-swap switches makes their keyboards attractive to budget-conscious consumers or to those who are simply not interested in shelling out a lot of cash just for a keyboard. Also, having many options to choose from allows users to select what keyboard size and features they want.
In addition, Gigaware can be a perfect gateway towards more premium keyboards. They allow users to test the waters to see if they will like mechanical keyboards or if they will like a certain type of keyboard switch. Gigaware's keyboards can also be a perfect platform for anyone to practice keyboard modding.
And lastly, Gigaware keyboards are perfect for those who want to upgrade the keyboards of their office spaces or internet cafes. After all, Gigaware's mechanical keyboards will certainly be better than a lot of typical membrane keyboards that these facilities use.
Why Look for Alternatives?
Of course, Gigaware keyboards are certainly not for keyboard enthusiasts. They lack a lot of features that the keyboard community gravitates toward. These include customizability both inside and outside the keyboard. Instead, as we have already established earlier, they are meant for consumers with a tight budget or casual users who are not into keyboards.
For those looking for more customizable options, there are plenty of alternatives both in the budget and high-end market. These include brands such as Royal Kludge, Epomaker, Skyloong, KPRepublic, KBDFans, and many more. All of these companies have curated products that are specifically targeted towards the keyboard enthusiast market.
Where to Buy Gigaware Keyboards?
Gigaware keyboards can be found in a number of different places. They are predominantly found in mainstream online stores such as Amazon and Aliexpress. However, as mentioned earlier, buyers will certainly find Gigaware products rebranded with other brand names.
Gigaware Keyboard Warranty
Gigaware does not explicitly state their warranty policy. So ultimately, what this means is that it will depend on the dealer of their keyboards. For more information, we recommend talking to your local Gigaware keyboard dealer. 
Stephen is the head content creator of Keyboardsexpert. His mechanical keyboard journey began in 2014 when he got his Razer Blackwidow. Since then, he has been fascinated with all things mechanical keyboard-related. He later discovered the custom keyboard hobby and fell in love with the vast customization options. He is currently searching for his endgame and is very excited to share his journey and educate other keyboard enthusiasts.