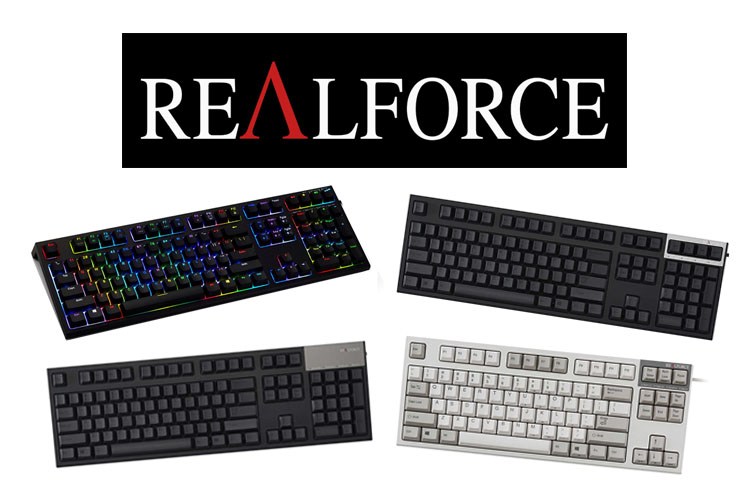 Japanese keyboard manufacturers have been highly regarded thanks to their excellent craftsmanship and unique approach to building mechanical keyboards. Brands such as Filco and HHKB, are excellent examples of companies that bring something unique to the world of mechanical keyboards. Another brand that has joined the ranks of the high-end Japanese keyboard market is Realforce.  
Realforce is a Japanese manufacturer of high-end keyboards. They are one of the only three brands that are producing keyboards equipped with Topre switches. Their keyboards cater to anyone from gamers to professional users. Aside from their switches, their keyboards are well known for their high-quality craftsmanship and durability.
RealForce is the brainchild of Topre Corporation. They were originally the exclusive users of Topre switches. And even today, only a handful of brands utilize Topre switches. 
In addition, Realforce is the only brand that produces Topre keyboards in full-size and TKL layouts. And, of course, Realforice embodies the premium craftsmanship that has helped put Japan in the global market.
In this article, we will be diving deeper into the Realforce brand. We will go through their extensive history as well as their product lineup. And ultimately, users should be able to tell if Realforce's premium keyboards are right for them.
Realforce Brand History 

Topre introduced Realforce way back in 2001. Topre made it to target general consumers. After some time, the brand successfully introduced a fresh face to the market through the product line, "RealForce R2". Since then, the brand has garnered the liking of mechanical keyboard enthusiasts. 
While few would want a Topre Keyboard due to customization issues, the feeling of exclusivity that one gets in acquiring Topre switches equipped mechanical keyboard is vast. In today's times, where a plethora of mechanical keyboard manufacturers offer the same quality and structure standard in their keyboards, having a keyboard such as those coming from RealForce makes one stand out and give a breath of fresh air. 
The Japanese brand does not stand on the same ground as others who manifest strong efforts to get an established market share in manufacturing mechanical keyboards. 
Topre and RealForce cater to a unique market share, which, in simpler terms, are infatuated with mechanical keyboards. In other words, one who considers buying a RealForce keyboard is presumed to be in-depth in their enthusiasm for mechanical keyboards. 
Realforce in E-Sports
Aside from Leopold keyboards, Topre equipped keyboards are typically not used in Esports. This is most likely due to how these keyboards are marketed. But with that said, Realforce is the only Topre equipped brand that manufactures gaming keyboards.
Realforce Keyboard Lineup
Realforce's keyboard can be divided into two categories as provided for in their website. One, keyboards for Home and Office Use; and two, for Gaming. Keyboards belonging to both types are equipped with Topre switches. Keyboards belonging from the two categories can be generally distinguished as to the layout. 
Keyboards for home and office use are only available in their TKL layout, whereas if you opt to go for those belonging to the gaming category, you are stuck with Full layout keyboards. However, if you visit the Japanese version of their website, you will only see the Realforce RGB TKL, which is basically the TKL version of the Realforce RGB on their English website. 
Other than that, keyboards in both categories have almost the same features and architecture. Here are some keyboards and notes that you may consider. 
Realforce RGB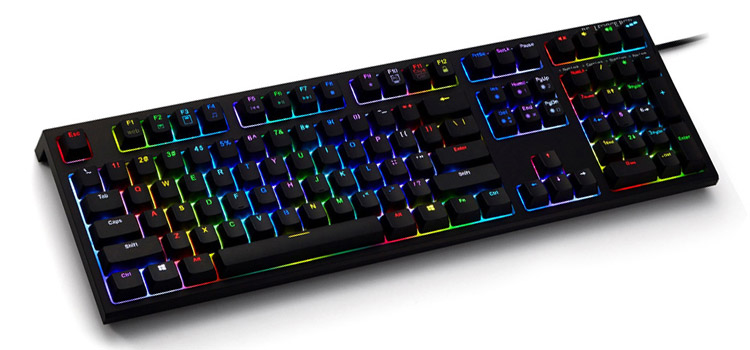 Realforce RGB Highlights
Full ( EN Website) / TKL Layout (Japan Website)

RGB Per-key Backlighting

Plastic Chassis but with an aluminum plate

Actuation Point changer

Full N-key rollover

Dedicated media controls

LED indicator

Software support for RGB customization

Compatible with MX-style keycaps
45g Topre Switches
The Realforce RGB is Realforce's answer to the increasing popularity of gaming keyboards. It features many elements found on gaming keyboards, such as RGB, but maintains the quality and feel that Realforce keyboards are known for.
Aside from RGB, what makes the Realforce a great keyboard for gaming is its variable actuation point. Using Realforce's companion software, users can select between an actuation point of 1.5, 2.2, and 3 mm.
Gaming keyboard brands, such as Razer and Steelseries, have also implemented this feature. However, the difference is that those brands utilized analog and hall effect switches instead of Topre switches.
With its different actuation points, the Realforce RGB can be used for both gaming and typing/professional use. And also, with its full N-key rollover support, users will be assured that the Realforce RGB will be accurate for any task they do.
In terms of size, the Realforce RGB is available in both a full-size or TKL layout. However, the TKL version is only available for the Japanese domestic market.
Lastly, the Realfore RGB features MX compatible stems, meaning users can use third-party keycaps such as GMK.  This is a killer feature since users can use whatever keycap set they want without sacrificing the feel of Topre switches. Realforce is the only brand that has this feature for their Topre keyboards. 
Realforce SA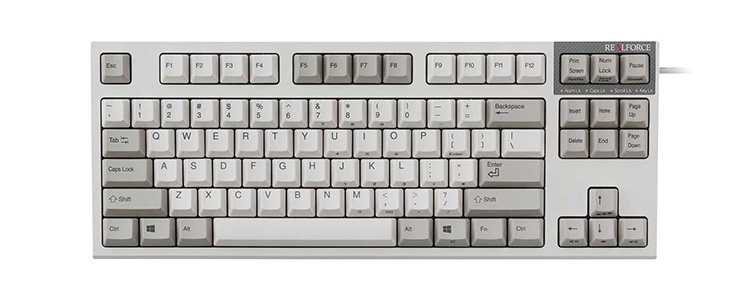 Realforce SA Highlights
Silent switches

45g actuation force

Full ( EN Website) / TKL Layout (Japan Website)

Plastic Chassis but with an aluminum plate

Actuation Point changer

Full N-key rollover

LED indicator

Software support
The Realforce SA is a very similar keyboard to the Realforce RGB in terms of its features. It also has variable actuation points, which makes it a very versatile keyboard. What makes the Realfroce SA different is its aesthetics and the Topre switch it is using.
Unlike the Realforce RGB, the Realforce SA does not feature any lighting. Instead, it goes for a more minimal look with a color scheme similar to vintage IBM keyboards.
As for its switch, the Realforce SA is using a silent version of Topre switches. These switches allow for a smoother and fuller sound compared to regular Topre switches. And, of course, it effectively cuts off the noise, making it a perfect keyboard for office work and other professional environments. 
The only thing that potential buyers have to take note of is that the Realforce SA is not compatible with MX-style keycaps. This means that consumers will be stuck with either the stock keycaps or the ones that Realforce sells.
Realforce R2-US5-BK / R2-US3-BK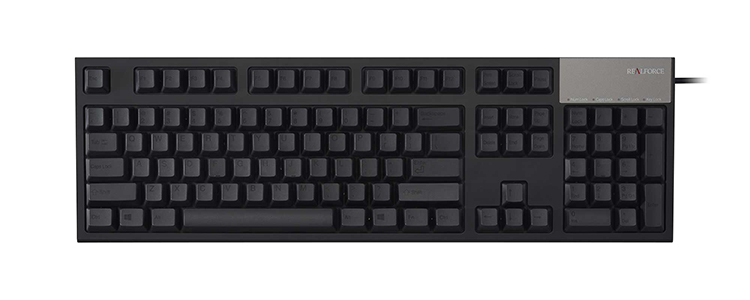 R2-US5-BK / R2-US3-BK Highlights
55g actuation force (R2-US5-BK); 30g actuation force (R2-US3-BK)

Full ( EN Website) / TKL Layout (Japan Website)

Plastic Chassis but with an aluminum plate

LED indicator
The Realforce R2-US5-BK and R2-US3-BK are the brand's professional line of keyboards. They ditch some of the modern features found on the Realfroce RGB and Realforce SA and instead only go for the essential features.
These two keyboards do not feature any lighting, support for variable actuation points, N-key rollover, and compatibility with MX-style switches. In terms of its aesthetics, the R2 series of keyboards are quite minimalistic and feature an all-black design complete with black-on-black (BOB) keycaps.
Both keyboards are very similar in terms of aesthetics and features. The only difference is that the R2-US5-BK has 55g of actuation force while the R2-US3-BK has 30g of actuation force. 
Realforce R2A-USV-BK / R2-USV-BK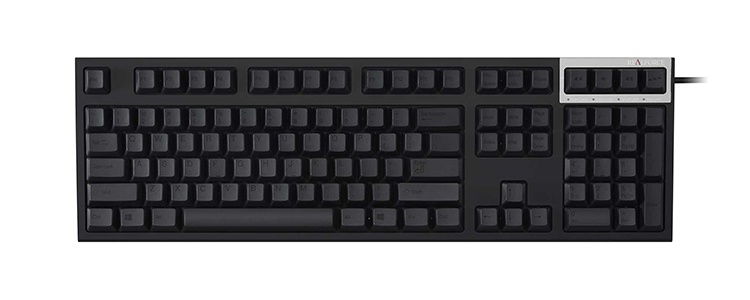 R2A-USV-BK / R2-USV-BK Highlights
Variable weight  

Dedicated media controls (Only for the R2A-USV-BK)

Full ( EN Website) / TKL Layout (Japan Website)

Plastic Chassis but with an aluminum plate

LED indicator

Full N-key rollover

Software Support
The Realforce R2A-USV-BK is very similar to the R2-US5-BK. However, the R2A-USV-BK brings back many of the key features found on Realforce's more modern keyboards, which makes it more versatile for more use cases.
Just like the Realforce SA and RGB, the R2A-USV-BK features variable weight complete with software support. It also has full N-key rollover, making it ideal for gaming or other demanding tasks that require accuracy. 
In terms of its aesthetics, the only difference that it has with the R2-US5-BK is the extra keys found on top of the Numpad. Other than that, the two keyboards look nearly identical. 
Topre Capacitive Switches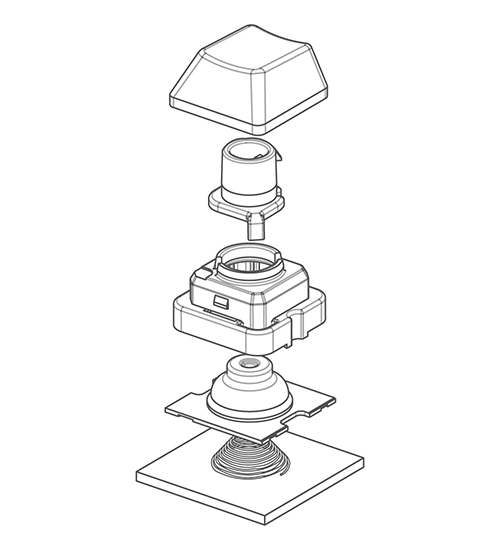 Topre switches are considered rare in the world of mechanical keyboards. Responses are triggered through a sensor that detects electric currents created by every keystroke—additionally, its architecture results in a quicker, smoother, and quieter return of the switches. 
Topre switches still use a spring similar to traditional mechanical ones but are only engineered to address typists' need for a faster response. Readers who would like to learn more can check out our discussion on Topre switches and Capacitive Keyboards. 
Why Buy Realforce Keyboards?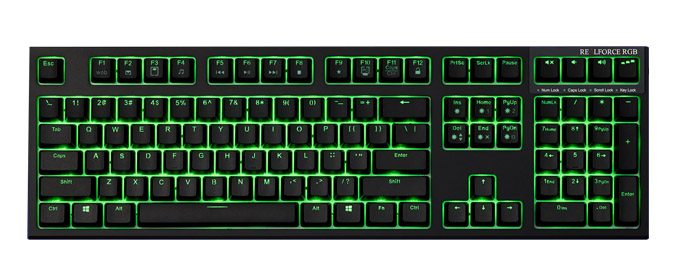 Realforce keyboards, especially the Topre switches, are simply a marvel of ingenious engineering. While the company has lost the exclusive patent of manufacturing it, Topre switches that comes from the company itself are treated with extremely high standards on its manufacturing process.
Furthermore, Realforce keyboards are highly regarded in the keyboard community due to their excellent craftsmanship and quality. Even with the advent of custom mechanical keyboards with different MX style switch options, Realforce keyboards are still being recommended simply due to their one-of-a-kind switch. In addition, Realfoce keyboards have a very safe design, size, and layout making them ideal for any kind of use case. 
Why look for Alternatives?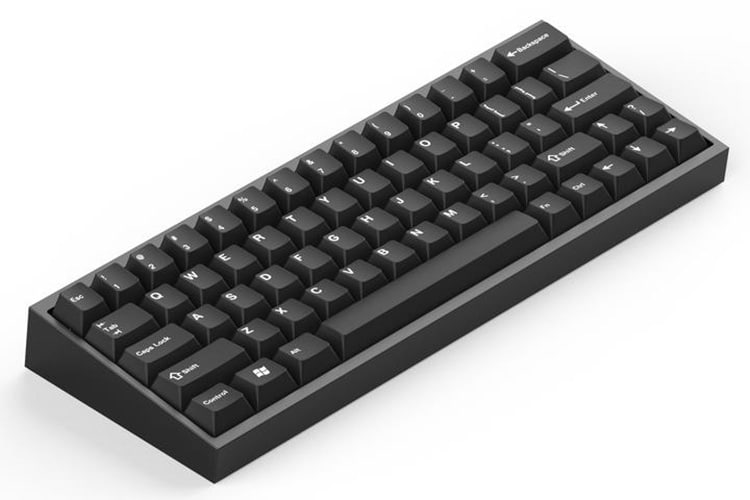 As good as Realforce keyboards are, they have some aspects that may make potential buyers think twice about buying them. The first major downside of Realforce keyboards is switch selection.
Topre switches are incredibly good. However, they do not have the diversity that MX style switches and Cherry MX clones have. Some Realforce keyboards offer variable actuation points and a silent switch option. But aside from those, most of Realforce's offerings are very similar. Again, this will depend on the end-user since many Realforce users are happy with Topre switches.
Another thing to consider is the construction of the keyboards. Again, all Realforce keyboards are well made. However, they still utilize plastic material for the case/shell of the keyboard. This will inevitably lessen the premium feel of the keyboard, especially since the rest of the competition is now using aluminum cases.
In addition, Realforce keyboards are only available in either a full-size or TKL form factor. Some models are also only available in the Japanese market. And lastly, Realforce keyboards are quite expensive.
They can easily match the price of custom mid-tier custom keyboard builds. Of course, every part of the keyboard easily justifies its cost. However, their price makes their keyboards out of reach for many regular consumers. 
As for alternatives. Happy Hacking Keyboard (HHKB) and Leopold are both solid options. They give the user alternative sizes (60% for HHKB keyboards and 65%/Compact Full-size for Leopold keyboards) which may be more appealing for certain tasks.
Users who want to have more customizability may opt for full-blown custom keyboards. KBDFans is a great place to start for readily available custom keyboard kits.
Which Realforce Keyboard to Buy?
Given the similarity between the quality and feature set of Realforce keyboards, any model will suffice for most users. However, we highly recommend the  Realforce RGB for those new to Topre keyboards since it offers the most features in Realforce's entire keyboard lineup. Aside from having an RGB backlight (which can be turned off by the user), the Realforce RGB has adjustable actuation points and compatibility with MX style keycaps making it a perfect model for those coming from standard mechanical keyboards.
Where to Buy Realforce Keyboards?
Realforce Gaming keyboards can be bought directly from their website. Still, it is highly recommended that you purchase them in mainstream stores such as Amazon, as their gaming keyboards are rarely made available in their website's store. 
RealForce Keyboard Warranty
Realforce offers a 2-year limited warranty on their mechanical keyboards. Check out Realforce's website to learn more.
Stephen is the head content creator of Keyboardsexpert. His mechanical keyboard journey began in 2014 when he got his Razer Blackwidow. Since then, he has been fascinated with all things mechanical keyboard-related. He later discovered the custom keyboard hobby and fell in love with the vast customization options. He is currently searching for his endgame and is very excited to share his journey and educate other keyboard enthusiasts.