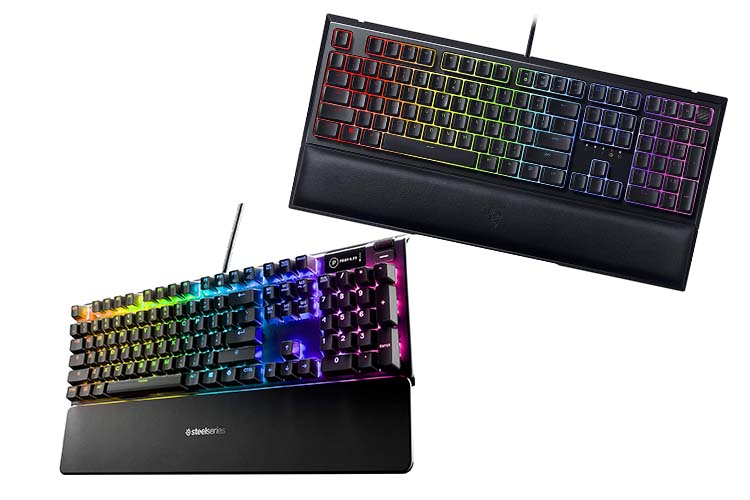 Mechanical keyboards are inherently expensive due to their design. This has made them out of reach for most budget consumers. However, some brands have tried ways to give budget-oriented consumers a product that can mimic the mechanical keyboard experience. 
Hybrid membrane/mechanical keyboards are keyboards that have the internal structure of a membrane keyboard but have the tactile feel of a mechanical keyboard.  These products are primarily marketed as budget keyboards meant for those who cannot fully commit to purchasing an expensive mechanical gaming keyboard.  
In this article, we will be diving deeper into the world of hybrid membrane keyboards. We will be talking about their actuation mechanism as well as how they compare to mechanical keyboards. And ultimately, we will help consumers decide whether or not these keyboards are worth their money.
What are Hybrid Mechanical Membrane Keyboards?
Hybrid membrane keyboards combine the technologies used in membrane and mechanical keyboards. This has allowed brands to make a keyboard that feels better than most standard membrane keyboards but still maintains its low production cost. 
Different brands have tried different ways to implement this kind of technology. However, one of the brands that have achieved great success with their hybrid switch design is Razer. Most hybrid switch keyboards, including Razer's offerings, are mostly meant for gaming.
Another perk that hybrid membrane switches have is their durability. While they are still based on the membrane keyboard design, they are considerably more durable and have a longer key lifespan. Also, most hybrid switch keyboards are water-resistant.
How Hybrid Mecha-Membrane Keyboard Work
Hybrid switch keyboards work very similarly to membrane keyboards. However, there are some modifications made to help achieve its superior feel.
Mecha membrane keyboards are usually composed of a rubber dome switch with a built-in clicker mechanism in the shape of a little leaf spring. The leaf spring in mecha membrane switches does not generate tactility. Instead, like the alps switch, it is the slider that is hooked into the leaf spring that produces its tactile feel.
Mecha-Membrane vs. Mechanical Keyboard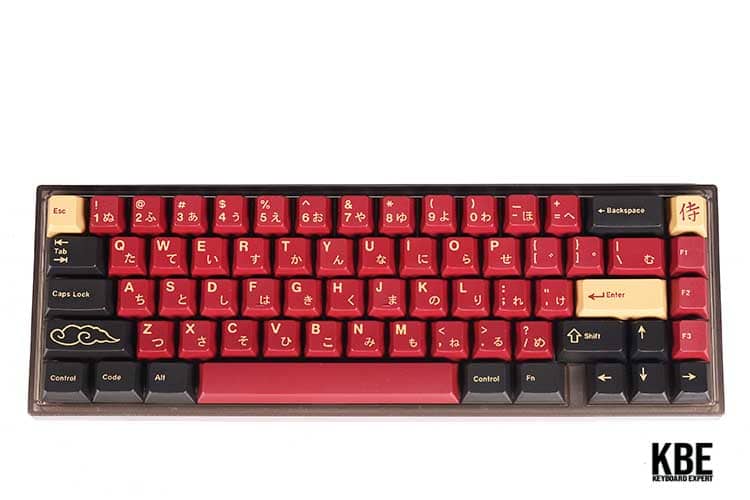 Hybrid switch keyboards are great alternatives to mechanical keyboards. However, at the end of the day, they are nothing more than copycats of mechanical switches.
Unlike mechanical keyboards that have individual switches under each key, mecha membrane keyboards utilize rubber domes. The use of rubber domes makes them feel better than regular membrane keyboards but still not to the same level as mechanical keyboards.
Again, they can only mimic the sound and feel of mechanical keyboards to a certain degree. The actual experience will still be far better on mechanical keyboards.
In terms of gaming, hybrid membrane keyboards are considered by the community to be decent options. This is because they are capable of reproducing tactile and accurate keypresses and they are compatible with programs such as Razer Synapse. But again, they will still fall flat in terms of raw performance since they are still membrane keyboards.
Of course, they will still have some advantages. One of them is the fact that they are spill resistance. They also need less overall maintenance.
Subjectively, the better keyboard will depend on the user's preferences. But objectively speaking, mechanical keyboards are superior to hybrid switch keyboards.
Are Mecha-Membrane Switches Good For Gaming?
According to some keyboard enthusiasts and gamers, mecha membrane keyboards are viable for gaming. The mecha membrane keyboard discards the tradeoffs of the membrane and mechanical keyboards, which means that the mecha membrane keyboard is not tiring to use and is more responsive to every keystroke made by the user than that of a standard keyboard.
One of the advantages of using a mecha membrane keyboard is that it boasts a high speed. Due to its high-speed performance, games like first-person shooting games can be a breeze to play and the typing experience feels very fast or quick.
Another advantage that the mecha membrane keyboard provides is that it is very convenient for long games or tournaments. It is considered to be a good keyboard for tournaments because of its soft texture, the soft texture makes the hands of the user feel more relaxed which results in less fatigue.
Taking into consideration the opinions of some of the users, it is safe to say or assume that the mecha membrane switches are really good for gaming. Some opinions may differ though, so it is still up to the user if he or she thinks that the mecha membrane switch is good for gaming.
Are Mecha-Membrane Switches Good For Typing?
According to some of the users, the mecha membrane keyboard feels great to use when typing. The mecha membrane keyboard has a soft and comfy click which makes it less tiring for a typist to use. The sound that the mecha membrane keyboard emits is also very low, which makes it suitable for people who like to work silently. This also means that it is suitable for people who work in an office or a crowded place.
Mecha-Membrane Advantages 
Just as previously stated, the mecha membrane keyboard offers the best features of both the mechanical keyboard and the membrane keyboard, which makes the mecha membrane keyboard offer a lot of good features.
One of the advantages of utilizing a mecha membrane keyboard is that the keys respond quickly and abruptly, making any keystroke easily captured. Another advantage it offers is that the keypress is smooth and simple to click, it is not heavy or tough to click at all. Another great feature that it has, is that it is very palpable or tactile, which means that the feedback it offers feels excellent and can make you feel that everything works accordingly. The mecha membrane keyboard also emits little to no sound, which makes it suitable for users who don't like the loud clicking sound.
To top it all off, mecha membrane keyboards are designed and manufactured by Razer, so it means that the quality and durability of the product are topnotch. The mecha membrane offers a lot of advantages, which makes it good for any computer-related task.
Mecha-Membrane Disadvantages 
Where there are advantages in using the mecha membrane keyboard, there are also some disadvantages of utilizing a mecha membrane keyboard. Some of the considered advantages of a mecha membrane keyboard can be considered a disadvantage for some.
One of the disadvantages of using a mecha membrane keyboard is that it emits little to no sound, some of the users like to hear the loud clicking sound when they are typing or playing because it helps them feel more focused on the game.
Another disadvantage that the mecha membrane keyboard faces is that it is less sturdy or enduring than the mechanical keyboard. When the mecha membrane keyboard also starts to be worn out, the keypress starts to feel spongy and uncomfortable to type on.
To sum it up, just like any product, the mecha membrane keyboard also has some drawbacks that can make it less appealing for some of the users, however, it is still up to the consumer to weigh in whether the disadvantages of the products outweighs its benefits or is it the other way around.
Should You Buy Mecha-Membrane Keyboards?
Mecha membrane keyboards offer lots of great features. And given their good price to performance ratio, they are good choices for beginners. However, what consumers must consider is that the mechanical keyboard market has completely changed since the first arrival of mecha membrane keyboards.
With the increasing popularity of custom mechanical keyboards, lots of manufacturers have been producing affordable options. Some well-known budget kits include the GK61X and GK64X. And while these keyboards aren't coming from big brands, they still offer plenty of value and allow users to experience mechanical keyboards without investing too much.
Of course, there are still plenty of perks with going with mecha membrane keyboards. Since these keyboards are produced by big brands, they will inherently have better software, warranty, and customer support. But when it comes to the actual typing and gaming experience, most of these keyboards will most likely fall short.
If you are someone looking for an authentic mechanical keyboard experience, then we highly recommend going straight to mechanical keyboards. However, users who are on a tighter budget and prioritize other features such as software features and customer support can opt for a mecha membrane keyboard.

The KBE team is dedicated to sharing our knowledge and creating useful resources about computer keyboards. This article was written as a team collaboration, combining our knowledge and years of experience using, building and modding keyboards. Meet the team here.