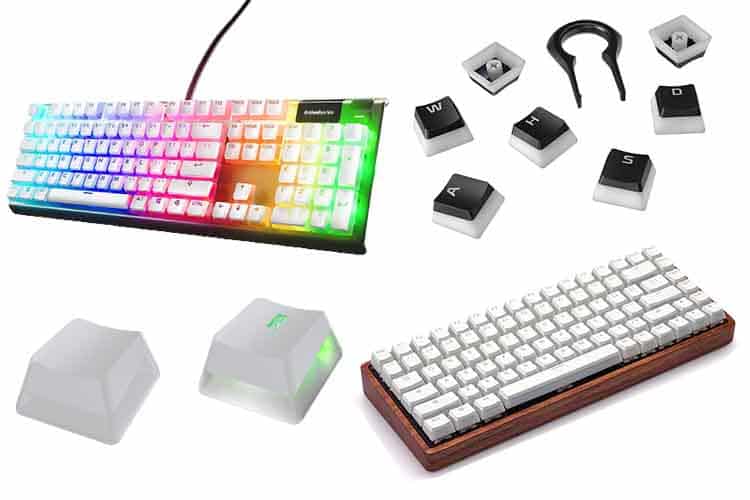 Selecting the keycaps for your keyboard is one of the most important elements for the aesthetics of the board. The keycap can express one's personality and be used to blend in with the rest of your gaming setup or workspace. One type of keycap that can help users truly express their personalities is pudding keycaps. 
Pudding keycaps are specifically designed to amplify the RGB backlighting of keyboards. The lower half of these keycaps are designed to be completely translucent, enabling the backlight of a keyboard to shine through easily. If you like RBG lighting, a pudding keycap set can be an integral part of your next build. 
This article will discuss all you need to know about pudding keycaps and how they fare in the competition. Should you have a keyboard equipped with RGB backlighting, you should continue reading as it will help you decide whether you need to get one. 
Brief Context to Keycap Sets
View this post on Instagram
Most pre-built keyboards come with relatively inexpensive and mass-produced keycaps that are drab and bland from an enthusiast's perspective. Of course, an exception must be made to manufacturers who see that their keyboard has a personality of their own through customized keycaps that catch the eye like those made by Varmilo, Iqunix, and the like. 
However, if we talk about most pre-built keyboards, there is little to no attention to their aesthetics. Most manufacturers provide you with a single-color keycap set that is more often than not, lets RGB shine through. To help you look for the keycap set that better suits your taste, we must have little knowledge regarding the know-how around it. 
Ultimately, you cannot avoid buying a keycap set, especially building a custom mechanical keyboard. If you did opt for a pre-built one, the keycap set provided for you might not be suited to your taste or rather bland to look at. In this case, you are left with no choice but to look for other keycap designs you like in various shops. 
What Are Pudding Keycaps?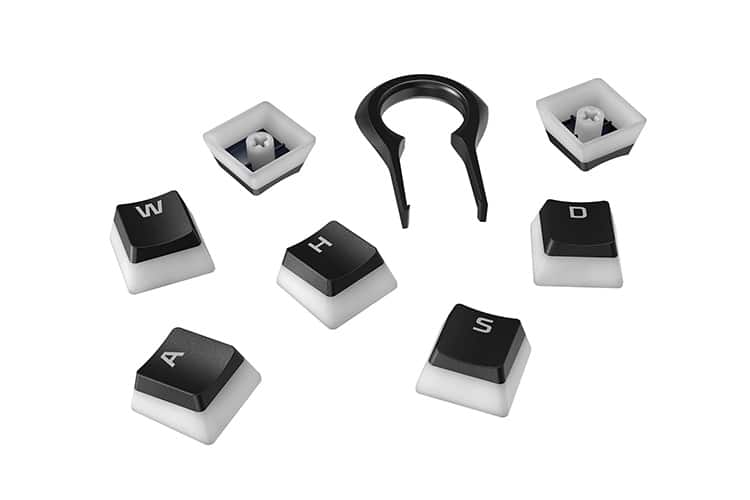 Another design that we need to look at and will surely captivate the hearts of RGB enthusiasts is the popular design called pudding keycaps. Its name alone suggests how they are designed and how they work. Also, if you are going to look at it, you can clearly see the shape of a pudding. 
Like the Pudding, this design only utilizes the top portion of the keycap to print the legends. The rest of the body is entirely translucent to maximize the shine-through of your keyboard's RGB backlighting.
Brands like HyperX are popular for selling this design in a high-quality keycap set. However, please note that several brands also offer their own iteration of pudding keycaps in various colors. 
Difference Between Pudding Keycaps and Regular Keycaps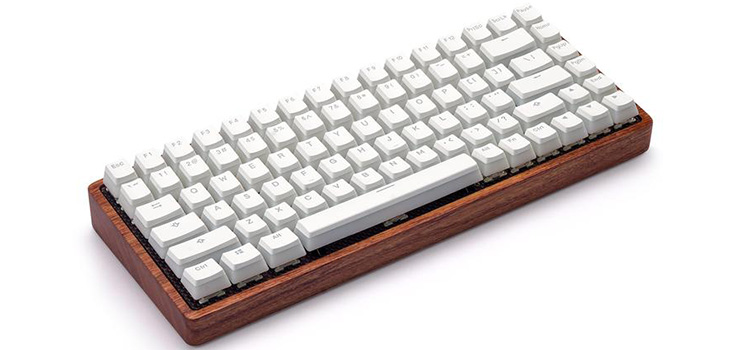 The only difference between Pudding and typical shine-through or normal keycaps is that the former better acts as a diffuser of RGB backlighting. On the other hand, the other one typically allows RGB to diffuse on the keycaps legends.
However, comparing Pudding keycaps to high-end custom keycaps is a different discussion. High-end custom keycap sets such as GMK and ePBT keycaps use the Cherry keycap profile, which is slightly thicker and shorter than your standard keycaps. As a result, it is impossible for RGB backlighting to shine through. 
What Materials are Used for Pudding Keycaps?
View this post on Instagram
In terms of how they are made, Pudding keycaps are no different from standard keycaps sets. Depending on the manufacturer, pudding keycaps are also made using ABS or PBT plastic. We have provided a more elaborate discussion regarding what you need to know about the two materials. It is highly recommended that you refer to them if you are interested. 
Pudding keycaps are created through double-shot injection molding, which separates each keycap into two layers – the top one that is entirely opaque and thick and the translucent body to let RGB shine through. 
Pudding keycaps are undoubtedly one of the best keycap designs that maximize the use of RGB backlighting. It not only maximizes the shine through of your keyboard's RGB but also enhances the performance of its lighting effects, given that there is more real estate in the keycap for light to diffuse. 
Are Pudding Keycaps Durable?
It depends on the materials used in creating them. Suppose you are well aware of the difference between ABS and PBT Plastic. You should know that the latter is objectively more durable and long-lasting. 
PBT Pudding keycaps are not deprived of the durability of regular PBT keycaps, even if only a portion of them is covered with opaque material. AS such, it is also resistant to wear, abrasion, and solvents that normally affect plastic components. However, please consider that it does not mean that you can treat them without care. 
Will the Sound Profile of Your Keyboard Change if You Switch to Pudding Keycaps?
Experience suggests that pudding keycaps, especially HyperX's, create a noticeably muffled sound. It does not completely silence the keys, but they are, in a way, much quieter. 
Which Keyboards Are Best Suited for Pudding Keycaps?

Keyboards with north-facing switches are best suited for pudding keycaps since they have relatively brighter LEDs compared to south-facing ones. Pudding keycaps work best on a keyboard with north-facing switches. The LEDs on the PCB must be positioned on the top of the switch to produce the brilliant RGB found on most gaming keyboards.
North-facing switches allow the keycap legends to be directly illuminated and a centered shine through to the body of a pudding keycap. Gaming keyboards and most pre-built keyboards now have north-facing switches as standard. With the emergence of bespoke keyboards, they have gradually become less desired. Because of a phenomenon called switch interference, this is the case.
Are Pudding Keycaps Compatible With Membrane Keyboards?

As of now, there are no pudding keycaps that are compatible with membrane keyboards or rubber dome switches themselves. Pudding keycaps, at present, are only compatible with MX-style switches. 
Should You Get Pudding Keycaps?
View this post on Instagram
If you are a fan of your keyboard's RGB backlighting, then it is highly suggested that you get these keycaps given that they allow for a maximized shine through of your switches' LEDs. It is also fun to play with if your keyboard comes with different pre-programmed lighting effects. However, note that this keycap design is only compatible with MX-style mechanical switches.
Meaning if you have a Razer or Logitech G keyboard or other brands that use their proprietary switches on their keyboard, you may encounter some fitting issues, which puts your purchase to waste. 

The KBE team is dedicated to sharing our knowledge and creating useful resources about computer keyboards. This article was written as a team collaboration, combining our knowledge and years of experience using, building and modding keyboards. Meet the team here.