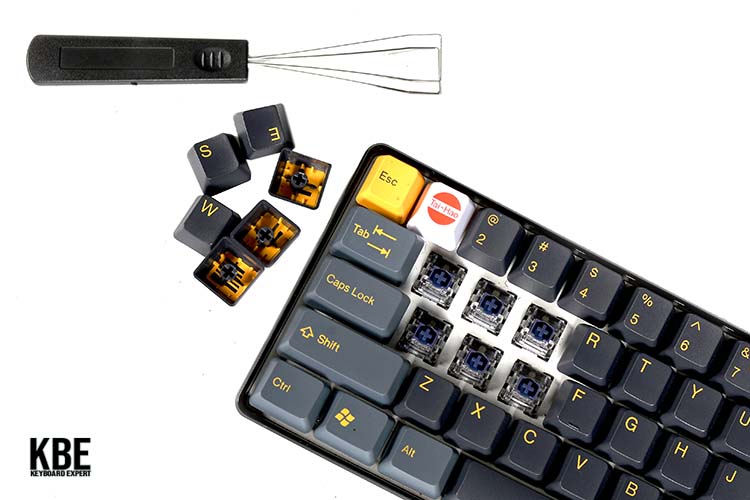 There are no rules when it comes to customizing mechanical keyboards. Users can generally do whatever they want, as long as the keyboard remains functional and as long as they are happy. However, one question is often asked if users can combine two or more keycap sets in a keyboard build. 
Different keycap sets can be mixed with each other. However, to ensure that they can be used without issues, there are a few guidelines to follow. The most important recommendation is to make sure the profile and the material of the keycaps are consistent.
This is mainly because mixing keycap sets is not very popular in the custom keyboard community. Most of the time, users stick to one keycap set. And for the majority of users, this works. 
After all, there are plenty of keycap sets available in the market. Some have unique colorways, while others pay direct tribute to pop culture icons. But sometimes, the available options just don't cut it. That is why many users are wondering if they can recreate a certain theme or colorway by combining multiple keycap sets. 
In this article, we will be answering that question. We will also provide some guidelines and samples to help users who plan to mix different keycap sets. 
Can You Mix and Match Keycap Sets?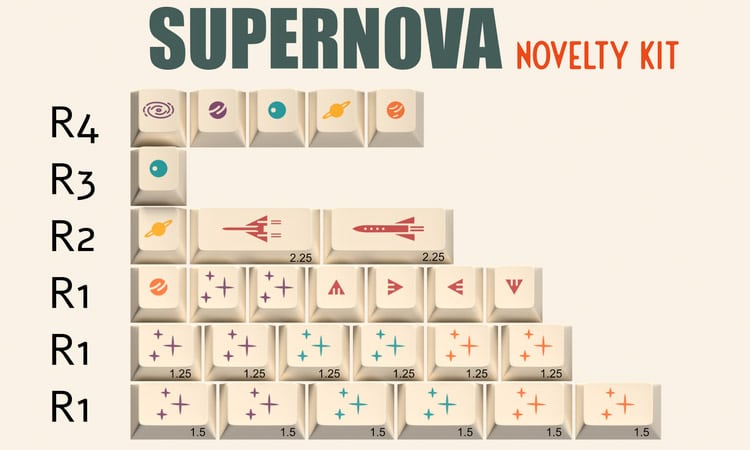 Let us start off by getting rid of the elephant in the room. Although keycap manufacturers generally don't make this openly known to their customers, different keycap sets can be easily mixed. 
This can be done regardless of the brand or price of the keycap sets. Mixing different keycap sets can help the user achieve a unique look that will certainly help their keyboards stand out. 
Most custom keycap sets are made for MX-style switches. So this means that users are free to use whatever keycaps they desire. However, there are a few points that are generally followed by users to maintain the optimal usability of the keycap set. 
Points To Consider When Mixing Keycap Sets
Keycap Profile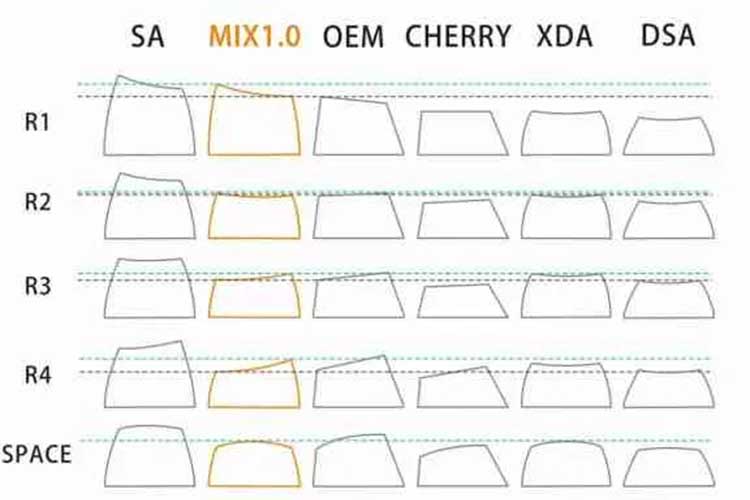 The keycap profile is the first thing to consider when mixing different keycap sets. For those who are new to custom keycap sets, the keycap profile is what determines the height and overall feel of the keycaps. 
In today's market, there are plenty of profiles to choose from. The cherry profile is commonly used by high-end keycap manufacturers such as GMK and ePBT. There are also taller keycap profiles such as SA and Drop's MT3. To ensure that the keycaps' height is consistent, we highly recommend mixing keycap sets that utilize the same keycap profile. 
Keycap Plastic Material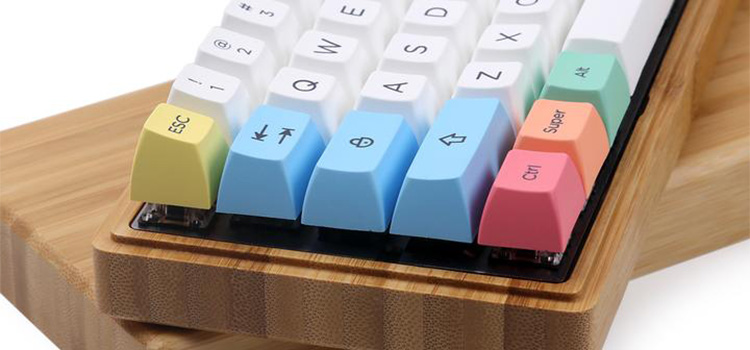 Another thing to take note of is the plastic material of the keycap sets you plan on using. As many users will already know, there are two types mainly used for keycaps: PBT and ABS. 
When talking about budget-priced keycaps, PBT sets are generally higher quality and more durable. But when talking about more high-end keycap sets, both ABS and PBT will both be high-quality. ABS plastic will develop shine quicker, but overall, both plastic types will develop shine with enough use. 
However, durability isn't the main reason why we recommend pairing keycap sets with the same material. It is because PBT and ABS keycaps are known to have different textures. 
The texture of the keycap will highly depend on the brand. But in general, PBT keycaps feel a bit rougher compared to most ABS keycaps which feel smooth. 
Of course, this will still depend on personal preference. Some users prefer having some keys feel rougher than others. This particular can be useful for the WASD area for gaming. But for users who prefer an even feel across the board, we recommend sticking with one keycap plastic material type. 
As for novelties, these keys will not be utilized too much. So feel free to use whatever keycap material you like in these areas. 
Keycap Brand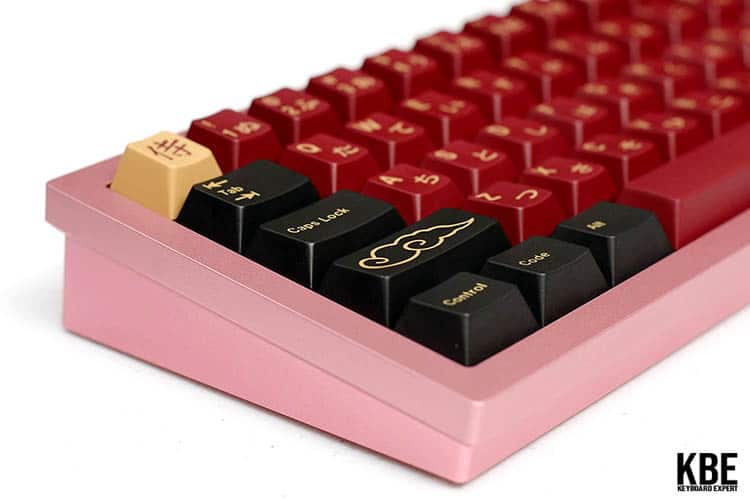 We have mentioned earlier that users can mix different keycap brands together. But for those who want to have the best experience possible, we highly recommend pairing keycap sets from the same manufacturer. This will ensure that the feel and typing experience throughout the entire keyboard will be consistent. 
GMK, for instance, is well known for offering thick keycaps with incredibly clear legends. Many also like the slightly rough texture found on these keycaps. Mixing two keycap sets from GMK will ensure that the sound profile, feel, quality, and aesthetics will be perfect throughout the keyboard. 
Of course, GMK is not the only high-end manufacturer. This means that users can still mix the alphas or modifiers from other high-quality keycaps. 
Adding Artisan Keycaps and Other Types of Keycaps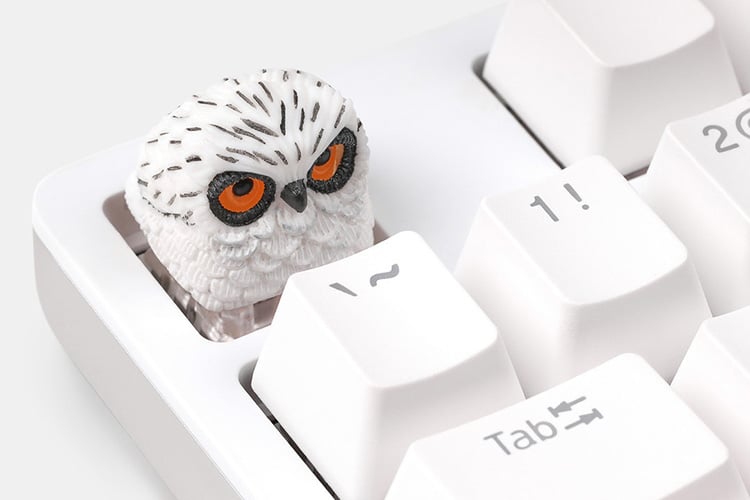 Keycap sets aren't the only types of keycaps that can be mixed. Special types of keycaps can also be thrown in to enhance the build's final look or enhance the usability of certain areas, such as the WASD keys. 
To enhance the look of your keyboard, we highly recommend throwing in some cool artisan keycaps. Some keycap manufacturers have an artisan keycap that was made specifically to pair with their keycap set. However, there are also third-party artisan keycap makers that can easily pair well with any keycap set.
As for keycaps that increase the usability of your keyboard, Tai-Hao's rubber keycaps are a great example. These are typically applied in commonly used keys such as the WASD area. 
Keycap Blend Ideas
When it comes to mixing keycap sets, there are truly no rules as long as the user is happy with the end result. But for users who are searching for inspiration, here are a few ideas. 
Combining Alphas and Modifiers From Different Sets
The most basic keycap combination is combining the alphas and modifiers of two keycap sets. One specific example is using the alphas of either the GMK Red or Blue Samurai with the mods of any of these two sets. This works well since the Red and Blue Samurai use the same exact modifiers. 
Another idea would be to combine GMK Godspeed and GMK Pulse. Both keycap sets feature complimentary colors that work well with each other. 
Utilizing Novelties From Two Different Sets
View this post on Instagram
Users who are already happy with the base kit of a certain keycap set can borrow novelties from other sets. Similar to our previous idea, novelty keycaps that utilize a similar shade, complementary color, or neutral with the base kit will work best. Again, novelties tend to be underutilized in most scenarios, so it shouldn't matter what brand or keycap plastic material you will be using.