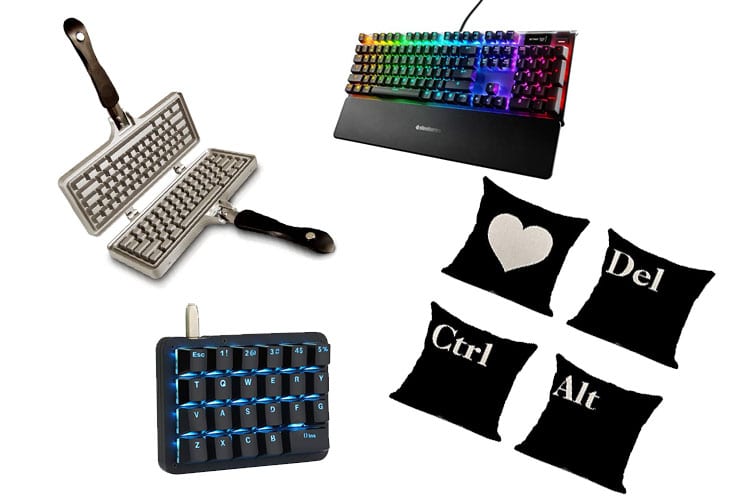 Gift ideas for keyboard enthusiasts aren't always straightforward. And with how complicated the world of keyboards is, you might have a hard time finding something that an enthusiast of this hobby will appreciate. So if you are out of ideas, we are here to help.
The gift items that keyboard enthusiasts would love are fun and quirky or novelty items such as keyboard-related plushies, tools for maintenance such as screwdriver sets, add-on kits such as macro pads, or simply a new premium mechanical keyboard.
In this article, we will be going over these items in more detail. We'll be talking about fun items such as the CTRL + ALT + DELETE pillow, as well as highly functional items such as the Elgato Stream Deck. So keep on reading to find the perfect gift for a mechanical keyboard lover.
Best Gifts For Keyboard Lovers
Mechanical Gaming Keyboard
Well, the obvious gift would be, of course, a good mechanical gaming keyboard, especially if you are giving it to a beginner gamer or someone who has been playing on a regular keyboard for a long time; this would be a great gift that will change the way they play. You have given them a great gift that they will get a great value out of.
even typeset would appreciate that gift since typing on a mechanical keyboard is way much better like I explained in the article about why mechanical keyboards are superior.
iFixit Tool Kit
Now we are appealing to the geeky computer enthusiasts who like to take matters into their own hands to fix electronics. Of course, keyboards my not need a tare-down to fix a problem in them, but still, it's nice to have a kit that will help you take apart almost any electronic device you have.
Ifix are domain leaders when it comes to disassembling tool kits that have a variety of screw drives, cutting tools, suction cups, and more, that will make any fixing task easy to do
Elgato Stream Deck
Another great gift for keyboard enthusiasts is an Elgato Stream Deck. This small device features several keys that can be reprogrammed to do almost anything you want.
This device is primarily designed for streamers. However, with its wide feature set, the Stream Deck can be useful to anyone.
With a stream deck, you can assign various shortcuts for programs such as Adobe Photoshop, Premiere Pro, After Effects, and many more. You can also assign the buttons to launch a specific program, such as Spotify. The sky's the limit with how intuitive the Stream Deck Software is.
But what makes the Stream Deck truly special is the customizable LCD screen found on each button. This way, you will never forget what you assigned on each key. The Stream Deck is a game-changer and is a perfect addition to any desk setup.
Keyboard Vacuum Desk Cleaner
Maintaining our keyboards is very important. Just like anything that we use daily, our keyboards can also get dirty. If you haven't cleaned your keyboard in months, the chances are that dust can accumulate under your keycaps.
If you know anyone who always eats in front of their keyboard or is always complaining about dust under their keyboard, this next item is a perfect gift. The best tool for quickly cleaning any keyboard is a keyboard vacuum.
As I illustrated in how to clean your keyboard, it could be a tedious task to disassemble and clean your keyboard. But with a keyboard vacuum, you can quickly remove any dirt that's hidden under your keycaps.
And with this tool, you no longer have to always disassemble or remove your keycaps.
Artisan Keycaps
One of the best things about mechanical keyboards is their customizability. You can replace almost any part of your mechanical keyboard to fit your theme or preferences better. But the easiest way to spice up any keyboard is by replacing the keycaps.
With different keycap sets, you can choose the color, the font, and the design of your keycaps to match your overall theme better. But if you want to take things up a notch, you can add Artisan Keycaps to your board. These are basically custom keycaps that are based on different things such as movie and video game characters.
Unlike traditional keycaps, Artisan Keycaps are usually handmade and are made of different materials such as resin. Therefore, the sky is the limit in terms of design choices for these keycaps. You can find great suggestions here.
Desk Mats
What to gift a keyboard enthusiast if they have the best keyboard? Well, a Desk mat. A desk mat with a design that matches their setup and style could complete the look of their desk and give it that extra touch that has been missing.
You can find lots of designs on Amazon that are cheap, well made, and suit almost every style, from the gamer to the office worker to the writer to almost everyone, with some having RGB lights or special materials. you are sure to find one that you would like
Keyboard Wrist Rest
Using a keyboard for a long time can be stressful on your hands, especially the wrists. Having a wrist pad can make typing for long hours a bit easier.
If you want to give this gift to a gamer or someone who types for a long time, they would love it, especially with the large variety of wrist pads out there varying from styles to practice with a lot of manufacturing materials. You can find a cheap one that fits your budget, or you can go extreme and pick a fancy one to show how much you care.
Macro Keypad
If you are looking for a more budget-friendly alternative to the Elgato Stream Deck, your best bet is a macro keypad/macro pad. These essentially accomplish all the goals of the Stream Deck but do it less intuitively.
Just like the Stream Deck, macro pads often feature programmable keys. These can be mapped to launch macros, applications, or other commands. However, unlike the Stream Deck, there is no easy way to do this. Instead, you will have to program each key manually.
Additionally, the keys do not have a screen. This means that you will have to develop some muscle memory to get used to your programmed keys. But overall, if you do not need all the features of the Stream Deck, macro pads are a great alternative.
Ctrl + Alt + Del Pillows
Having covered the most basic gift for keyboard enthusiasts, now let's mix things up. How about a pillow set that has the words ctrl alt del printed on them? Now that is a great gift for the computer lover in your life who also has a flair for interior design. that says, "Hey, I know how to fix problems on my pc." That is a great gift that I find adorable and heartfelt that says I know what you like, and I care.
This gift will be popular with IT specialists and programmers since it refers to using the keys Ctrl + alt +del to restart your PC or kill some apps that are causing problems in the background when your pc freezes.
Keyboard-Shaped Waffle Iron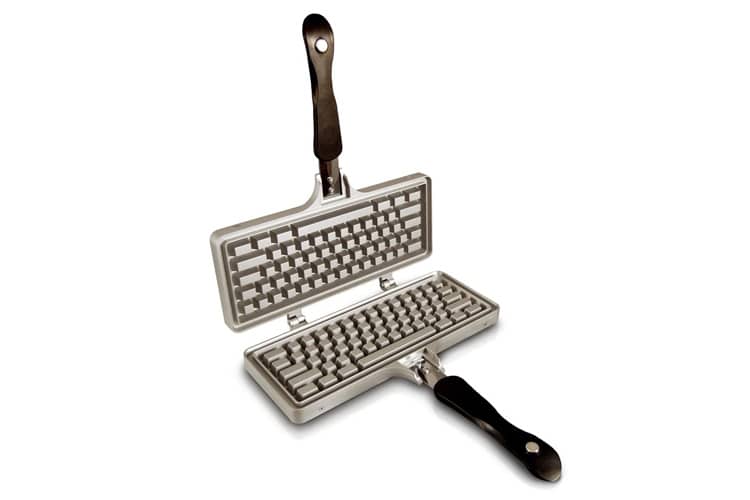 I know you have seen this all over the web, but frankly, I could not help but mention it. It's a keyboard-shaped waffle iron. I like the idea it's a great gift that says I know your hobbies, and I want to share them with you at the breakfast table, that is at least.
What started as a Kickstarter project is now a great geeky gift that is available every were and many keyboard enthusiasts are proud owners of one of these amazing waffle makers.

The KBE team is dedicated to sharing our knowledge and creating useful resources about computer keyboards. This article was written as a team collaboration, combining our knowledge and years of experience using, building and modding keyboards. Meet the team here.