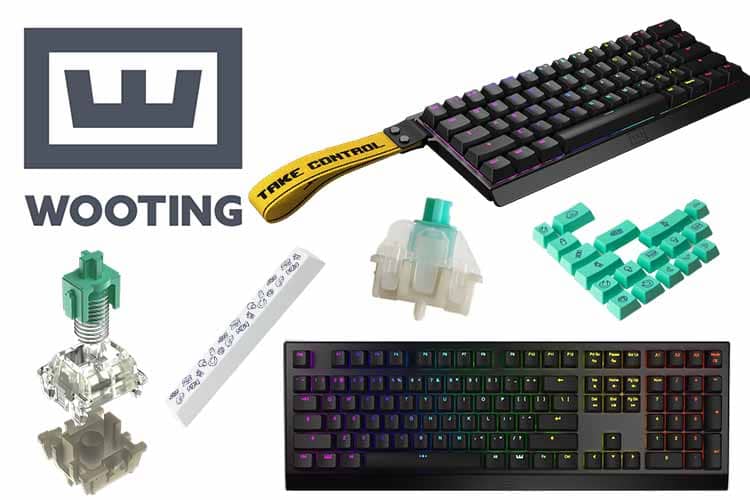 When it comes to analog keyboards and hall-effect keyboard technology, many consumers think about brands such as Razer and Steelseries. However, they were not the first ones to introduce that kind of technology. The first one that attempted to bring these innovative features to market was Wooting.
Wooting is a Dutch PC peripherals company known for developing the first analog and hall effect mechanical keyboards. They are a brand known for bringing innovation and continuously forcing the gaming mechanical keyboard industry to create better products for gamers/consumers to enjoy.
Wooting isn't a brand that rings a lot of bells. This is mostly because they are not as big as competing brands in the gaming mechanical keyboard market. However, Wooting should not be quickly dismissed since they have plenty to offer.
Throughout the years, they have introduced tons of products that have challenged the value proposition that gaming peripherals offer. They had everything from optical switches to switches with adjustable actuation points. All of these features were later incorporated by competing gaming keyboard brands.
And most recently, Wooting has introduced keyboards that have enthusiast-grade/custom keyboard features. This proves just how committed they are to establishing themselves as a brand made by and made for enthusiasts.
In this article, we will dive deeper into the Wooting brand. We will be going through their history as well as their current product lineup, And by the end of this article, consumers should be able to determine if Wooting keyboards are right for them.
Wooting Brand History
Early Years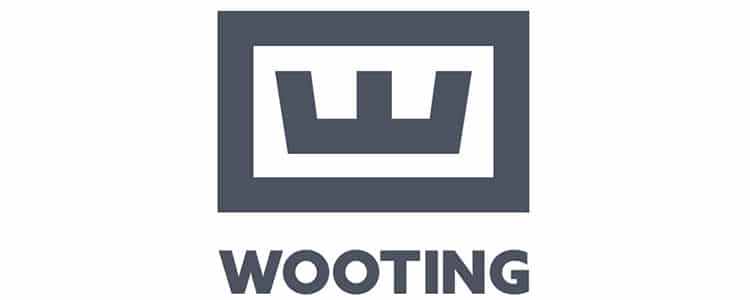 Wooting was founded by Calder Limmen, Erik Stakenborg, and Jeroen Langelaan. The company was established as a response to the lackluster mechanical keyboards that gaming companies offered back in 2015. 
After a year of planning, Wooting finally decided to announce the arrival of their first keyboard. This mechanical keyboard was meant to be something special since it was meant to embody everything that the three founders were looking for in a mechanical keyboard.
After several obstacles and failed attempts in mass-producing their products, Wooting finally released the Wooting One in 2017. This product became very successful and helped spawn Wooting's other mechanical keyboards.
Mainstream Fame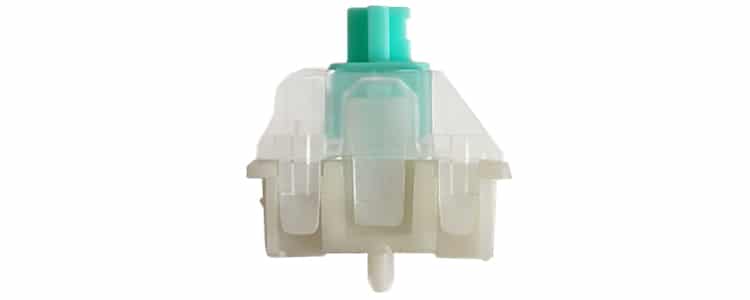 With the success of the Wooting One, the company worked hard to bring a worthy successor. After a year of research and development, the company released the Wooting Two. Both products were well-received and remained in the market for several years.
However, Wooting was still not satisfied with the products that they offered. They further innovated the mechanical keyboard industry by creating the Lekker Switch.
These were now based on Hall-Effect Switches instead of the optical switches found on their older keyboards. The company now exclusively uses these for their newer models, the Wooting Two HE and the Wooting 60HE.
Today, Wooting has evolved from a three-man company to having a full-blown team that supports them in their endeavors. And given how successful Wooting's products are, many enthusiasts believe that they have a bright future ahead of them.
Keyboard Brand Lineup
Wooting previously offered various keyboards such as the Wooting One, Wooting Two, Wooting Two Lekker Edition. However, all three products were discontinued in favor of their newer keyboards. Wooting currently only produces two keyboards: the Wooting Two HE and the Wooting 60HE. 
Wooting Two HE

Wooting Two HE Highlights
Full-Motion Analog Controls

Hall-Effect Lekker Switches
Adjustable Actuation Point
Rapid Trigger
Dynamic Keystrokes

Fast Response Time

Onboard Memory

Detachable USB-C Cable
The Wooting Two HE is currently the flagship product of Wooting keyboards. It features the latest iteration of the Lekker switches (manufactured by Gateron), which combines Analog and Hall-Effect keyboard technology.
Just like previous Wooting keyboards, the Wooting Two HE has a full range of analog movement. It enables the keyboard to act similarly to gamepads/controllers making movement more precise. This is very useful in games such as racing simulators and Fornite.
Another feature that is returning is the adjustable actuation point. With this feature, users are able to set how heavy or light they want their switches to be. Each switch can be programmed independently, meaning certain keys can be faster while others can be a bit heavier to prevent accidental key presses.
In addition to these, the Wooting Two HE features rapid trigger and dynamic keystrokes. Rapid trigger essentially allows users to create alternate reset points to help make repeated keypresses faster and easier to actuate.
Dynamic keystrokes, on the other hand, allow users to program four different commands in each keystroke. Two commands can be programmed while depressing the key, and another two commands can be programmed while the key is going back to its reset point. In short, users can program a different command for half presses and full presses.
Lastly, the Wooting 2 HE is able to achieve even faster response times via its overclock mode (Tachyon Mode). Certain areas, such as the WASD keys, can be targeted to make them faster compared to the rest of the keyboard.
As for its physical appearance, the Wooting 2 HE is rather simple. It has a full-size layout with a very simple design. Aside from the RGB, there are no fancy gimmicks here, making this keyboard ideal for gaming and professional use.
In addition, consumers can choose between ABS and PBT keycaps. The cable is also detachable, making this keyboard compatible with aftermarket/custom cables.
The Wooting 2 HE is also hot-swappable. However, it is only compatible with Lekker switches. This means that the purpose of this is mostly for repairs of faulty switches or possibly compatibility with future iterations of these switches.
Wooting 60HE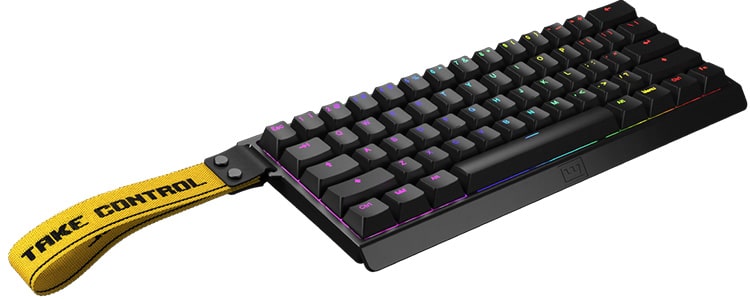 Wooting 60HE Highlights
Adjustable Actuation Point

Rapid Trigger

NKRO/Anti-Ghosting Feature

Universal Tray-Mount

Offers Layers and Smart Shortcuts
The Wooting 60HE is essentially a 60% version of the Wooting Two HE. It features a significantly smaller form factor by eliminating the F keys, the arrow keys, the home row cluster, and the Numpad.
However, this keyboard isn't simply a downsized version of the Wooting Two HE since it has many unique features that aren't found on its bigger brother. Some of these unique features include factory lubed switches and stabilizers, built-in dampening foam, water resistance, and a universal tray mount design.
Having pre-lubed stabilizers and switches means that the Wooting 60HE already feels great out of the box. Lubing is quite essential in the world of custom keyboards, meaning this keyboard should appeal to those who are very critical of the sound and feel of their keyboards.
But the good things do not stop there. Unlike other Wooting keyboards, the Wooting 60HE is meant to be taken apart. Users can easily access the switches and stabilizers since the keyboard can be easily disassembled.
In addition, users can opt to replace the stock plastic case with other tray mount compatible cases. These include the Tofu aluminum keyboard cases offered by KBDFans.
And lastly, the Wooting 60HE features the same Lekker switches found on the Wooting Two HE. All of the features that are found on the Wooting Two HE are also coming back for the Wooting 60HE. Overall, this keyboard provides everything that makes Wooting such a unique brand while also introducing custom keyboard features that make this keyboard more customizable.
Why Buy Wooting Keyboards?
 

View this post on Instagram

 
There are many reasons why Wooting has captured the interests of many keyboard enthusiasts. But the biggest reason why they shine in the highly competitive mechanical keyboard market is because of their focus on innovation.
Wooting was one of the first brands that introduced the concepts of analog switches, hall-effect switches, and optical keyboard switches. They have always put innovation and functionality first before anything else. As a result, they have created unique keyboards that offered features that could not be done with traditional gaming mechanical keyboards.
Furthermore, Wooting has managed to maintain good quality control in their products. Their keyboards are known to be reliable both in terms of their build quality and the quality of their switches.
Overall, Wooting keyboards are perfect for those looking for unique keyboard features such as adjustable actuation points and dynamic keystrokes. They are also perfect for those who want a high-quality minimalistic-looking keyboard that can fit in regardless of their environment.
Do Pros Use Wooting Keyboards?
 

View this post on Instagram

 
Despite the many gaming-centric features that Wooting keyboards have, they are not explicitly marketed towards gamers. They are not directly competing against other brands that offer analog or hall-effect switches. such as Steelseries and Razer. Instead, they are trying to occupy new territory that other brands have not yet explored.
Being a unique brand largely means they are not copying the trends set by these gaming-centric brands. It also naturally means that they are not interested in sponsoring professional Esports teams, organizations, and events.
But with that said, analog keyboard technology has become extremely popular in games such as Fortnite. In these communities, Wooting is commonly used by both casual gamers and top professional players/streamers.
Why Should You Look for Alternatives?
 

View this post on Instagram

 
Wooting's biggest weakness lies in the number of keyboards they currently offer. Unlike competing brands, their keyboards cannot satisfy every niche. Many aspects, such as their switch offerings and keyboard size offerings, are quite limited.
In addition, Wooting keyboards are targeted towards certain types of consumers. With their analog/hall-effect hybrid keyboard technology, they are presenting innovative features. However, the use cases of these additional features only apply to certain games or programs. For users who are more interested in different kinds of mechanical switches or a full-blown custom mechanical keyboard, there are plenty of alternatives out there.
Where to Buy Wooting Keyboards?
 

View this post on Instagram

 
Wooting keyboards can be bought directly from Wooting's Official Website. Their keyboards can also be bought via physical retail stores.
Wooting Keyboard Warranty
Wooting offers a two years limited warranty for their analog gaming keyboards. Check out Wooting's Official Website to learn more. 
Stephen is the head content creator of Keyboardsexpert. His mechanical keyboard journey began in 2014 when he got his Razer Blackwidow. Since then, he has been fascinated with all things mechanical keyboard-related. He later discovered the custom keyboard hobby and fell in love with the vast customization options. He is currently searching for his endgame and is very excited to share his journey and educate other keyboard enthusiasts.