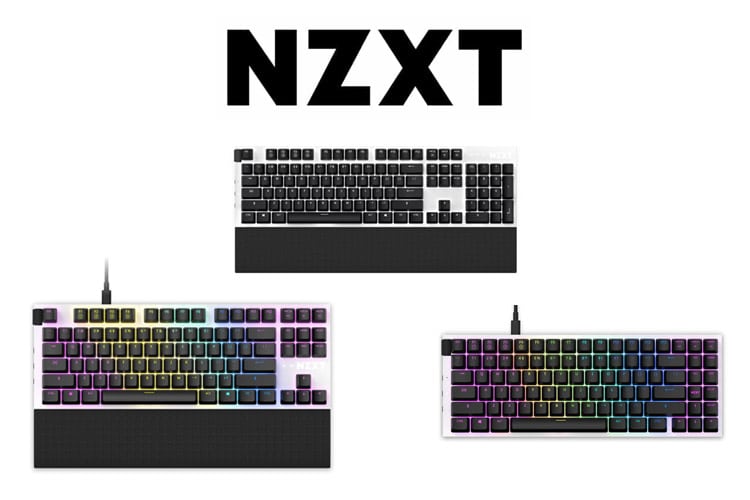 NZXT is one of the most recognizable brands in the PC gaming industry. Many of their products, such as the NZXT H series PC cases and Kraken series CPU coolers, are highly regarded in the PC gaming and PC building community. And for a long time, NZXT has mainly focused on these types of products. But recently, the brand has decided to further expand their product lineup by offering computer peripherals.
NZXT has recently entered the mechanical gaming keyboard market with the introduction of the NZXT Function keyboards. Just like their other products, the goal of these keyboards is to provide a customizable experience fit for PC enthusiasts. And while their current products are not perfect, their offerings are a step in the right direction.
In this brand review, we will be taking a deeper look into NZXT's mechanical keyboard lineup. We will also be giving a brief overview of the brand for those not familiar with NZXT. And ultimately, we will help buyers determine if NZXT is a good fit for their setup.
NZXT Brand History

NZXT is based in California, United States, and was founded way back in 2004 to promote and assist the emerging DIY PC Building community. Since their conception, the brand has consistently traversed the same direction: expanding their PC components and building divisions.
The brand's main line of business is manufacturing PC components such as cases, cooling solutions, motherboards, lighting solutions, and a lot more. The brand is also famous for being a PC Builder company. Their expertise is influential as they are hailed as one of the best in their field.
NZXT is relatively new as a keyboard brand. In fact, they have just introduced their first product line just recently. Their debut was perceived with mixed reviews mainly due to their attempt to introduce a new form factor in the competition. As for their keyboards themselves, they are priced similarly to entry-level competitive products, which inevitably begs the question, can their keyboards survive the competition? Are they good enough based on their price?
NZXT Keyboard Lineup
NZXT Function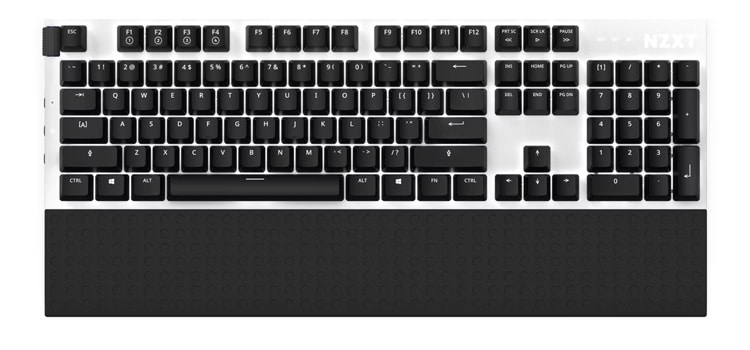 NZXT Function Highlights
Available in three (3) form factors: Full size, TKL, Mini TKL

ANSI Layout

Hot-swappable Plate-mounted Mechanical Keyboard

Aluminum Top Plate

Per-Key RGB Backlighting

Removable USB Cable
The NZXT Function is a keyboard that aims to bridge the gap between gaming keyboards and custom keyboards. It takes what consumers already like with gaming keyboards but adds some much-needed features that are mostly found on custom keyboards.
Like most gaming keyboards, the NZXT Function has a plastic base and an aluminum top frame. It also features North-Facing switches for brighter RGB backlighting.
However, unlike many of its competitors. the NZXT Function features 5-pin hot-swappable switches. It also has a dedicated volume wheel/mute button as well as a dedicated backlight brightness button.
In addition, the NZXT Function comes with pre-lubed plate mount stabilizers as well as pre-lubed Gateron clicky, tactile, or linear switches. And to top it off, the NZXT Function has a detachable USB Type-C cable and removable wrist rest. 
In terms of size and form factor, the NZXT Function is available in three sizes: Full-size, TKL, and 75%. So ultimately, users can choose between traditional keyboard sizes or a more compact 75% layout. 
Despite its high ambitions, the NZXT Function is still not a perfect keyboard. In its stock form, it is highly unlikely to compete with full-blown custom keyboards. However, given its pretty reasonable price, it succeeds at introducing a customizable experience to gamers and more casual users.
NZXT Function Customization
In addition to the customizable features we have mentioned earlier, NZXT also offers more options if you order the Function through their website. On NZXT's keyboard builder, you have a bunch of different options.
For instance, you can choose between an ISO and ANSI layout. Users can also choose between different switches, including the more premium Gateron Silent Black Inks and Aliaz switches.  Lastly, buyers can choose the color of the keyboard's case, the color of the keycaps (base and accent keys), and the color of the cable. 
This level of customization is typically not available for most gaming keyboards. And while the NZXT Function is not as customizable as more expensive keyboards such as the Mode65, NZXT's keyboard builder is still a much-appreciated addition.
Why Buy NZXT Keyboards?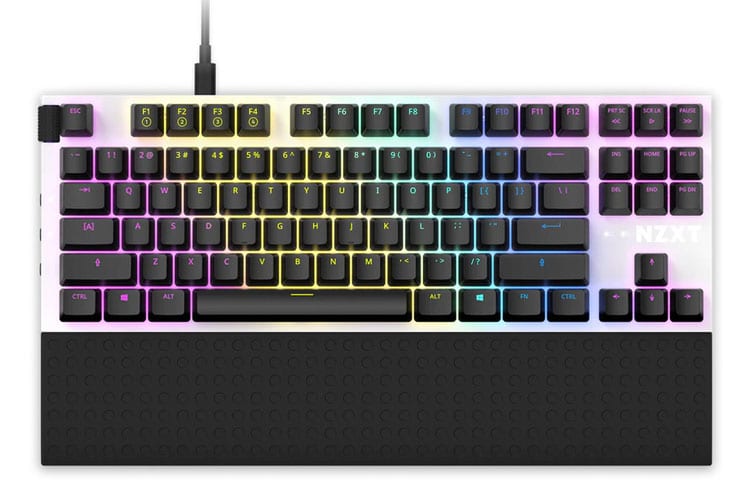 NZXT's keyboards are bringing customizable features to the mainstream gaming keyboard market. They are one of the few gaming keyboard brands that offer in-depth customization with their keyboards. Aside from hot-swappable switches, many other features such as the color of the keyboard and keycaps can be pre-configured.
The brand manages to bring these features without sacrificing key gaming keyboard features. The function of the keys and the RGB backlighting can still be customized with their included keyboard software. Also, the response time and the reliability of the keyboard are not compromised.
Basically, what you are paying for with NZXT's keyboards is the ability to personalize/customize your keyboard without entering custom keyboard territory. You will be able to choose how your keyboard looks and feels without going through a group buy. NZXT's approach to gaming keyboards is a welcome change, and hopefully, it challenges other big keyboard manufacturers to step up.
Why Look for Alternatives?
Despite having so much customizable features, at the end of the day, the NZXT Function is still a pre-built gaming keyboard. While it still has modding potential, it still won't be on par with the custom keyboard kits offered by brands such as KBDFans, Cannonkeys, and Novelkeys. So if you are looking for a true custom keyboard experience, we recommend looking at the brands we have mentioned.
Alternatively, for those looking for a small form factor mechanical gaming keyboard, you will have to look elsewhere. The smallest keyboard size that NZXT offers is a compact 75% layout. 75% keyboards can still be a bit too big for some users and may prefer something smaller such as a 65% or a 60% keyboard.
Where to Buy NZXT Keyboards?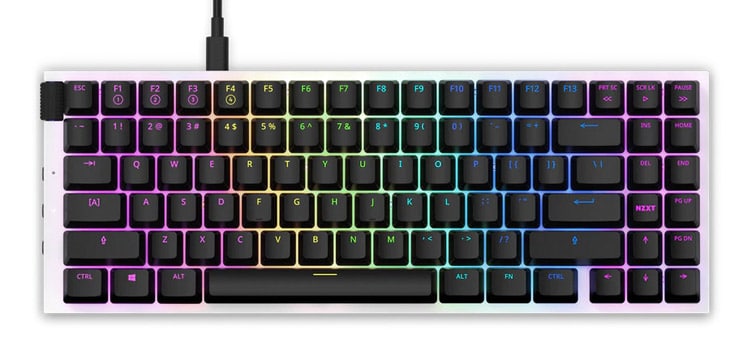 NZXT's keyboards can be purchased directly through their website. Buying through their website allows users to fully customize the keyboard via NZXT's Keyboard Builder. Alternatively, NZXT's keyboards can also be purchased through online stores such as Amazon.
NZXT Keyboard Warranty
NZXT offers a 1-year limited warranty for their keyboards. Check out NZXT's official website to learn more.