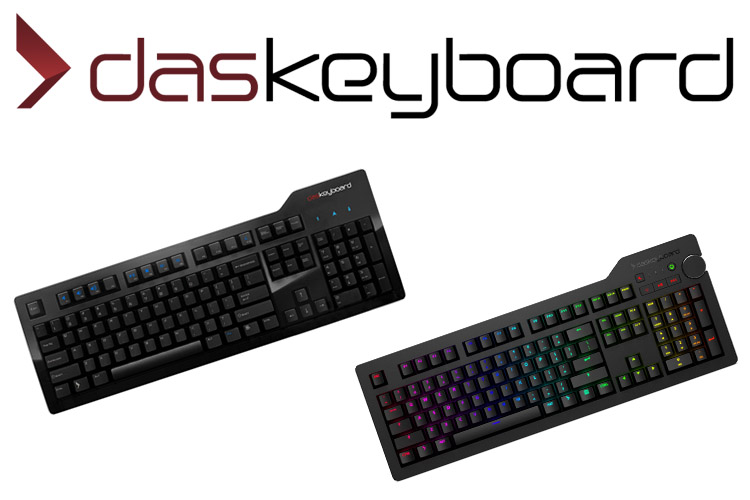 Das Keyboard is a brand of keyboard sold by Metadot Corporation, based in Austin, Texas. Das Keyboards was one of the few popular mechanical keyboard brands back when mechanical keyboards were not as prevalent as they are now. Before the Razer Blackwidow was released in 2010, Das Keyboard was very likely to be recommended to you if you were looking for a mechanical keyboard at the time.
Das Keyboards are best known for having full layout boards with media controls with a knob, USB ports on the side of the keyboard, and, historically, blank keycaps to help train touch typing. Their more recent models offer "Supercharged" support – applet integration to be used alongside the keyboards.
In this article, we will be learning more about Das Keyboards. We will be going through their brand history and current keyboard offerings. And ultimately, we will help users decide if they are a brand that users should go for, especially considering the current state of the prebuilt and custom keyboard market.
Brand History

Das Keyboards' first release was back in 2005. It was heavily inspired by the IBM Model M keyboard. It had individually weighted keypresses, with the reason that some keys require more force than others. This lines up perfectly with their touch typing philosophy as pinky fingers are encouraged to be used, and said fingers are not as strong as the rest of the hand.
The second generation of Das Keyboards was released in 2006. It now featured Cherry MX Blue switches, the most popular clicky switch and the switch that would be the basis for many, many mechanical keyboards to come.
The third generation of Das Keyboard products came out in 2008. They offered Ultimate (unlabeled) and Professional (labeled) versions. It came with two USB ports which would soon be a staple of Das Keyboards. However, it had its fair share of issues, like the USB ports not supplying enough power to connected devices and high WPM counts causing transposition errors.
In 2009, Das Keyboard released the Model S, aiming to alleviate the issues from the previous release adding PS/2 support and media key support. They released Ultimate and Professional versions as well and added a Professional Silent model. This model used Cherry MX Brown switches instead, intended for a much quieter typing sound compared to Cherry MX Blues. 
The Das Keyboard 4, released in 2014, featured a new knob and improved construction. Despite the Model S still being produced and sold, the Das Keyboard 4 would be the basis for more models to come.
Controversy arose in 2015 when some models were sold with Greetech switches instead of Cherry MX switches. The clone switches were cheaper than Cherry MX and raised questions on quality control. Within the next year, Das Keyboard went back to using Cherry MX switches. 
Das Keyboard launched a Kickstarter for their new product, Das Keyboard 5Q, in June 2016. It promised cloud connection, integrating many different online services to interact with the keyboard and its lighting such as GitHub, Stack Overflow, Gmail, etc. The product was promised to be delivered to backers by January 2017 but experienced about a year's worth of delays.
It took until Q2 2018 for most backers to receive their product. This would seem normal in the group buy scheme, but not for a company of Das' caliber. Another issue with this release was the software being limited to Windows support.
The 4Q and 5Q keyboard models are now available for Mac and Linux as well. Their latest release is the X50Q and the 5QS. These models feature Gamma Zulu switches by Omron. The new switches promise an extended lifespan of 100 Million actuations over Cherry MX's 50 million. They also come with the Supercharge.
Mechanical Keyboard Lineup
Das Keyboard Model S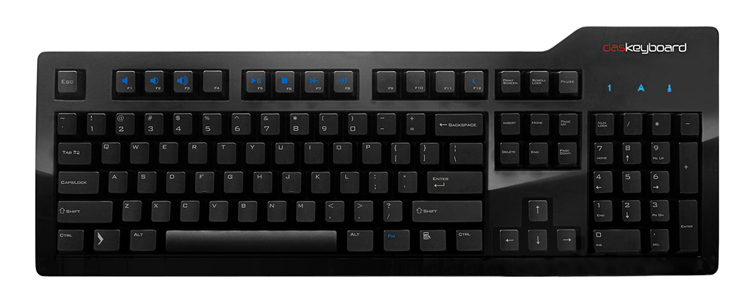 Model S Highlights
Enhanced 104-Key Layout (With Media Control)
Cherry MX Mechanical Key Switches with Gold Contacts
Full N-Key Rollover
Laser-etched Keycaps
Included PS2 Adapter and 6 Keys with USB
Compatible with PC or Mac, Windows, Linux, or Mac OS X
It tells a lot when a product released in 2009 still stands strong in a merchant's store. The Das Keyboard Model S is the essential Das keyboard. This keyboard is good for workplaces, whether modern or aged, featuring two side USB ports, Cherry MX switches, a full keyboard layout, and a PS/2-USB adapter.
The Das Model S features a hump on the right side of the keyboard. This design element would later become a signature part of every Das keyboard that would be released in later years. Overall, with its minimalistic looks and feature-packed design, the Das Keyboard Model S is a perfect workhorse for both gaming and work-related tasks.
Das Keyboard 4Q
4Q Highlights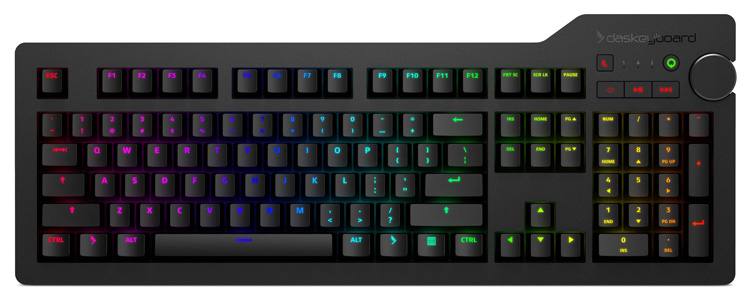 Available in 4 Layouts (

104 US,

105 UK,

105 DE,

105 NO)

Anodized Aluminum Top Panel

Two-Port USB 2.0 Hub

Lasered Keycaps US, and ABS Lased ROW

NKRO for USB Connection
Cherry MX RGB Switches
The Das Keyboard 4Q is a more updated version of the Model S. It features the same iconic overall build and design of the Model S but adds modern keyboard features such as a knob, RGB backlighting, and Smart software integration. Its updated look makes it more competitive with gaming keyboard brands such as Logitech G, Razer, Hyperx, and Steelseries, which are going for a similar look.
Despite its added features, the Das Keyboard 4Q still maintains its excellent typing feel and all the features that made the Model S such an iconic keyboard. Overall, the 4Q is an excellent combination of sleek and stylish with a focus on productivity.
Why Should You Buy Das Keyboards?
If you're a shopper, particularly with established brands, rest assured, Das Keyboards is a brand that stood the test of time. If you are also the type to look for a "modern vintage" type of stuff, the aesthetic and reputation of Das Keyboard should be right up your alley.
Why Should You Look for Alternatives?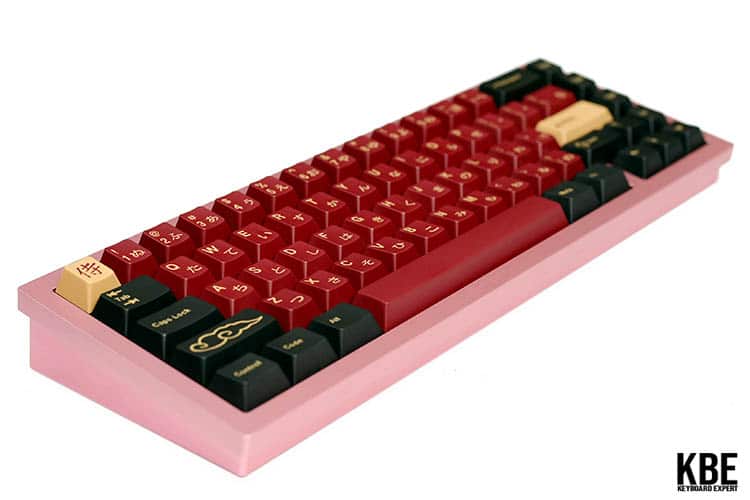 For the price, there are many keyboards nowadays that have better overall quality even out of the box compared to many Das Keyboard models. In today's keyboard market, there are a lot of keyboards at the same price with media controls (FN combinations) and/or a knob.
While not consensus, there is a popular opinion that the 1800 is a much better office/productivity layout. It has all the functions and keys of a full layout keyboard with a more compact form factor.
There are also complaints about the software being buggy with the implementation of applets and a lack of customization options. The keyboard also doesn't seem to save settings applied to it. Unplugging soft resets your keyboard until you re-apply settings.
For modern high-end keyboard recommendations, we recommend checking out brands such as HHKB, Filco, and Leopold. We also recommend checking out custom keyboard brands such as KBDFans, Novelkeys, and Cannonkeys.
Do Esports Pros Use Brand Keyboards?
Being around for so long, it's highly likely that esports pros from before 2010 (a.k.a. Surge of the Blackwidow) used a Das Keyboard. We remain with this speculative tone because there is little info on specific esports pros who are sure to have used this keyboard in their setups.
Where to Buy Das Keyboards?
Das Keyboards may be purchased from popular e-commerce websites such as Amazon. Although you may end up getting better prices for your product with those, you may miss out on a good warranty policy. The following section will provide a clearer image of said warranty policy.
Das Keyboard Warranty?
Being such an established brand through the years, Das Keyboard has a very well laid out warranty system. You may use their website's support helpdesk for any instructions regarding returns. Purchases made using their website have a 30-day money-back guarantee.
If you are not entirely satisfied with your purchase, you may return your item for a refund within 30 days of purchase. Das Keyboard also offers a year Limited manufacturer's warranty. This only applies to defects "in workmanship and materials." All these require a date of purchase and proof of purchase. The terms for this are described in this table.
Stephen is the head content creator of Keyboardsexpert. His mechanical keyboard journey began in 2014 when he got his Razer Blackwidow. Since then, he has been fascinated with all things mechanical keyboard-related. He later discovered the custom keyboard hobby and fell in love with the vast customization options. He is currently searching for his endgame and is very excited to share his journey and educate other keyboard enthusiasts.